4 Excellent Benefits Of Commercial Pressure Washing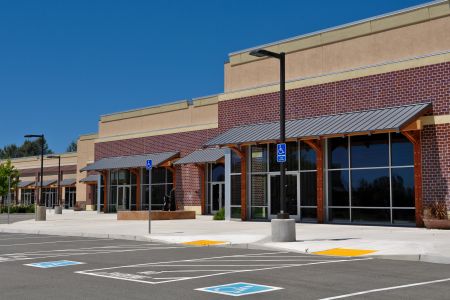 It's wise to never judge a book by its cover, but appearance plays a significant role when it comes to choosing a business we would like to patronize. When people imagine a successful, trustworthy business, they picture one that is clean and well maintained with gorgeous exterior surfaces.
Business owners have plenty on their plate to deal with already, so it isn't uncommon for many of them to let the image of their property go neglected for a little bit. However, the cost of doing so can significantly damage their good standing and the public's faith in them. To avoid injury to their reputation and public perception, businesses everywhere rely on professional pressure washing companies to ensure their surfaces always meet a high mark. There are many key benefits to hiring a professional pressure washing team for your commercial pressure washing needs, and they pay for themselves ten-fold in the long run.
Clean Surfaces Create Positive Advertising
While it may be evident that what's clean looks better and is more attractive, clean surfaces may not be so apparent that clean surfaces serve as a form of positive advertising for your commercial enterprise. Word of mouth and an excellent review score isn't enough to pique the interest of passersby who may walk by your establishment for the first time. These people could be potential customers of yours, and if they see surfaces that look weathered and unkempt, they may not be tempted to give your place a second thought.
Commercial pressure washing ensures your business will always give out positive impressions, and it will increase the confidence of repeat and new customers alike. People will be more likely to check out your business if it has a professional and respectable appearance.
Prevent Your Surfaces From Premature Degradation
No business owner wants to fork over part of their income to deal with repairing or replacing one of their surfaces, such as their sidewalk. The unfortunate truth, though, is that many of the contaminants that collect on your surfaces can cause them to break down over time. Pressure washing not only removes eyesores and blemishes, but it's also fantastic for preventing costly future damages.
Exterior Sanitation
Besides the usual filthy suspects, your exterior surfaces attract much more than dirt and dust. Allergens, germs, and bacteria can all make a safe harbor on frequently contacted surfaces, and this can lead to your customers and employees getting sick. Commercial pressure washing services use premium cleaning agents that will disinfect and sanitize your property and promotes a healthier environment for all of your visitors.
Pressure Washing Reduces Accidents And Liability Claims
Slipping hazards are a constant concern for any business, and they can appear all too easily due to the high amount of foot and vehicle traffic around. If someone were to slip and injure themselves due to algae or vehicle fluids on your property, you could be held liable. Pressure washing removes these hazards and makes your business a safer space for all.
When you're ready for reliable commercial pressure washing in Spokane, give Grace Pressure Washing a call at 509-850-7828.
Schedule Expert Pressure Washing in Spokane & The Surrounding Areas Now!