Solar Panel Cleaning For Well-Maintained Spokane Solar Systems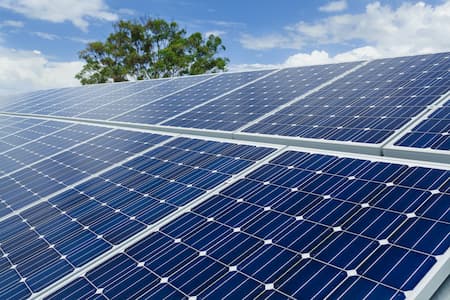 If you have solar panels on your Spokane property, a professional cleaning service can do wonders when it comes to extending their lifespan and increasing their overall efficiency. When you want a dependable solar panel cleaning, the pros at Grace Pressure Washing are here to help!
Grace Pressure Washing is the company people trust the most when they need pressure washing for Spokane. Our experienced and fully insured technicians specialize in cleaning all types of surface materials, and that includes solar panel cleaning. We understand what our climate puts your surfaces through, and we know what treatments work best to wash away grime and leave your surfaces in immaculate condition. When you need a pressure washing team that will go above and beyond to ensure you get the best results, Grace Pressure Washing is unmatched.
PV Panel Washing
Solar panels, or photovoltaic panels, rely on ample amounts of sun to collect energy and generate electricity. The problem, however, is that these panels are exposed to many more elements besides sunlight. Solar panels collect all types of debris and substances on their surfaces, including dust, dirt, bird droppings, and pollen. Professional solar panel cleaning is the maintenance your panels need to operate at their optimum capacity.
Our pressure washing experts use specialized glass cleaning attachments for our solar panel cleaning, and we use premium cleaning solutions that won't leave any sticky residue behind. Some of the benefits you can expect from our service include:
Optimum Efficiency: We clean away all the dirt and grime that may inhibit your solar panels from collecting sunlight. With solar panel cleaning, your panels will simply work better.
Visual Appeal: Dirty solar panels can look like they're in disrepair and harm your property value. Solar panel cleaning gets them in beautiful condition, so they always please the eyes.
Durability: There are many substances that can land on your panels and, if left for too long, can cause permanent damage. Solar panel cleaning washes these contaminants away and extends the lifespan of your panels.
Warranty: If your solar panels are under warranty, the fine print probably states that they need to be regularly cleaned. Professional solar panel cleaning will maintain your panels and provide you with a receipt you need to keep your warranty intact.
For expert solar panel cleaning you can always rely on in the Spokane area, Grace Pressure Washing is the team you can trust!
Residential Pressure Washing Services You Can Trust
Our experts also provide many other professional pressure washing services along with solar panel cleaning. There's no job too challenging for our team! Whether you need a complete makeover for your property or just a little clean-up, we're here when you need us. Call our staff and ask to schedule a free quote for top-rated services such as:
House Washing
Rust Removal
Driveway Washing
Patio Cleaning
Fence Washing
And More!
Schedule Expert Pressure Washing in Spokane & The Surrounding Areas Now!