Dumpster Pad Cleaning For Spokane Business Care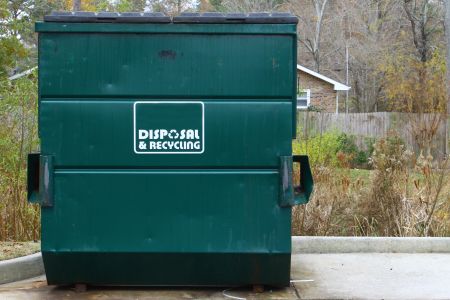 The dumpster area is one of those places on your commercial property that no one wants to be at for long but is essential to keep clean. If you're in the Spokane area, professional dumpster cleaning by Grace Pressure Washing will ensure your dumpster pad stays in decent condition and never gives off any foul impressions.
There's plenty to do and think about if you own a business, and for many business owners, it's the small things such as exterior surfaces that can easily get overlooked. Luckily, the dependable surface cleaning crew at Grace Pressure Washing has got you covered when it comes to ensuring the appearance of your business stays clean and professional. We're committed to providing only the finest pressure washing for Spokane homes and businesses, and we do what other companies fail to, which is to deliver eye-catching results repeatedly.
If your dumpster pad has seen better days, there's no better time to give it the professional pressure washing treatment you can trust. For top-notch dumpster pad cleaning in Spokane, speak to the experts at Grace Pressure Washing by calling 509-850-7828.
Dumpster Area Sanitation
Many business owners may think they shouldn't bother keeping an area such as their dumpster pad clean since it's not seen by many and not used enough to justify it, but they couldn't be more wrong. The condition of your dumpster pad could have a significant impact on your customers and your employees. Consider some of the many benefits that professional dumpster pad cleaning can bring to your business:
Health: There may be all types of germs and bacteria around your dumpster. Dumpster pad cleaning sanitizes this space and prevents your staff from succumbing to avoidable illnesses.
Pests: Rodents and insects love to go where they know they can easily find food. Dumpster pad cleaning washes away grease and rotten food and decreases your local pest population.
Impressions: If your dumpster pad looks like a dump, that can be a huge turn-off for your customers and employees. With a freshly clean dumpster area, you'll give the impression that your business maintains a high standard of professionalism and sanitation.
Foul Odors: Garbage stinks, and it can stink even more when it gets stuck to surfaces over a long period of time. Dumpster pad cleaning eliminates stubborn filth that causes foul odors to permeate through your property.
Grace Pressure Washing has the equipment and expertise necessary to give your dumpster area a complete wash, so it looks fantastic and complements the rest of your property. When you need a dependable dumpster pad cleaning, call our experts!
Spokane's Commercial Pressure Washing Pros
Could your business use the help of more pressure washing services besides dumpster pad cleaning? We're ready when you are! Speak to our team and schedule your appointment for top-rated services such as:
Sidewalk Cleaning
Patio Cleaning
Window Washing
Solar Panel Cleaning
Rust Removal
And More!
Schedule Expert Pressure Washing in Spokane & The Surrounding Areas Now!