Fence Washing To Care For Spokane Homes & Businesses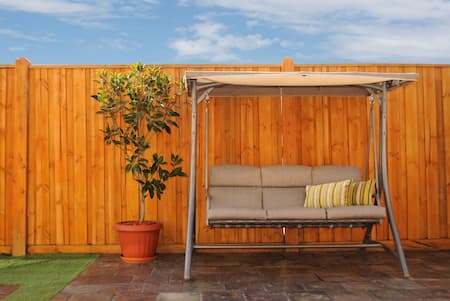 Fences provide our property with security, privacy, and curb appeal, but they won't last forever without a bit of maintenance from time to time. If you're in the Spokane area, the fence washing pros at Grace Pressure Washing is who you can trust to keep your fence beautiful and protected for years to come.
Grace Pressure Washing is a team of local professionals who proudly provide top-rated pressure washing for Spokane. As local residents of the area and proud members of this community, our professionals will always go above and beyond to ensure our neighbors get the five-star pressure washing treatment they deserve. We excel where other companies fall short, and that means when you call on us for fence cleaning, you'll get the best professional maintenance for your fence in the area.
A clean fence will look better and last you longer. For Spokane fence washing that you can always rely on, give the team at Grace Pressure Washing a call at 509-850-7828.
Wood & Vinyl Fence Cleaning
Like so many of your other exterior surfaces, your wood or vinyl fencing can collect unsightly substances that detract from your home's curb appeal and degrade the surface material. Professional fence washing is the maintenance your fence requires to stand up to the elements, and with it, you can say goodbye to algae, mildew, dirt, and other eyesores.
When you call on the fence washing professionals at Grace Pressure Washing, some of the benefits you can expect are:
Protection: May of the organic materials that collect on your fence can weaken and damage it. Our fence washing eliminates them and protects the structural integrity of your fence.
Curb Appeal: Having a fence is always a bonus, and a clean fence is even more so. Fence washing makes your fence look brand new, significantly boosting your home's curb appeal.
Health Benefits: Along with grime, allergens and bacteria can also collect on your home's fence. Our pressure washing treatment will sanitize your fencing, so you enjoy a healthier home environment.
Paint Preparation: If you're considering painting or restaining your fence, fence washing is the perfect way to prime it! Fence washing allows stains and paint to form a strong bond with the surface material below.
Our fence washing specialists will achieve a spotless clean for your fencing using pressure washing equipment that won't damage any paint or cause splintering. You'll not only enjoy a fence that looks brand new again, but you'll also ensure your fence continues to serve you for a long time to come.
Spokane's Most Trusted Pressure Washing Services
Fence washing is far from all we do here at Grace Pressure Washing! Our pressure washing services can be relied on to give your entire property a beautiful makeover. Speak to our team and ask to schedule a free quote on such expert services as:
Deck Washing
Sidewalk Cleaning
Driveway Washing
House Washing
And Much More!
Schedule Expert Pressure Washing in Spokane & The Surrounding Areas Now!