Patio Cleaning For Easy-To-Enjoy Spokane Porch Washing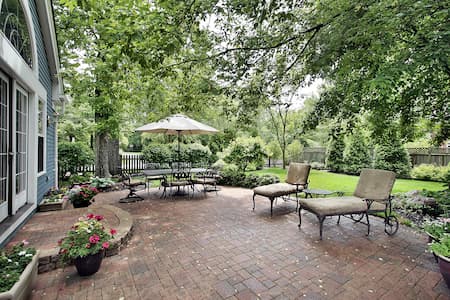 It sure is nice to relax on our patios in Spokane, but it can be less than pleasant if grime and other contaminants have begun to take over your surfaces. If you need a professional patio cleaning treatment that will have your favorite outdoor living space spotless again, then you need the help of the pressure washing experts at Grace Pressure Washing!
Professional pressure washing is the perfect way to give your exterior surfaces an outstanding shine and bring back their eye-catching finish. Grace Pressure Washing is the company people call first when they need dependable pressure washing for Spokane because we always aim to exceed our customers' expectations. Our surface cleaning team uses a wide range of advanced pressure washing technology and cleaning solutions to wash away any stubborn contaminants so your surfaces can look brand new again and continue to serve you for years to come. When it comes to the maintenance of your outdoor living spaces, nobody works harder than Grace Pressure Washing!
Keeping your patio cleaned and in perfect condition will allow you and your family to enjoy it even more! When you need a reliable patio cleaning service at an affordable price in the Spokane area, give Grace Pressure Washing a call at 509-850-7828!
Porch Washing Specialists
Whether you're hanging out with your family, entertaining your guests, or just catching up on some fresh air, the patio is the place you can reliably do all three while catching some sunshine. But like everything that's exposed to the elements, your patio or porch needs a little help from time to time if you want to keep its charm. Our professional patio cleaning services are just what your patio or porch needs to stay clear of organic substances and eyesores. When you call on our team for your next patio cleaning, we'll begin by safely removing any furniture or other items and then carefully cleaning each surface using the industry's most trusted pressure washing techniques.
Are you curious why you can depend on Grace Pressure Washing for your patio cleaning needs? Here are some of the many reasons why our service is so exceptional:
Our treatment sanitizes and disinfects your surfaces to keep you and your family safe from common illnesses
We can wash stains and set-in grime that can be too challenging to remove through other means
Slipping hazards are easily cleaned out, so you and your guests won't have to worry about accidents
Our patio cleaning service will take your home's curb appeal to the next level
There's not a better way to ensure your patio stays gorgeous than with professional patio cleaning by Grace Pressure Washing! Give our experts a call today for a free quote!
Your Residential Pressure Washing Specialists
We've got you covered if you need more pressure washing services besides or along with patio cleaning! Speak to our staff and schedule your appointment for such top-rated services as:
Driveway Washing
Sidewalk Cleaning
Deck Washing
House Washing
And Much More!
Schedule Expert Pressure Washing in Spokane & The Surrounding Areas Now!