Sidewalk Cleaning For Safer Spokane Walkways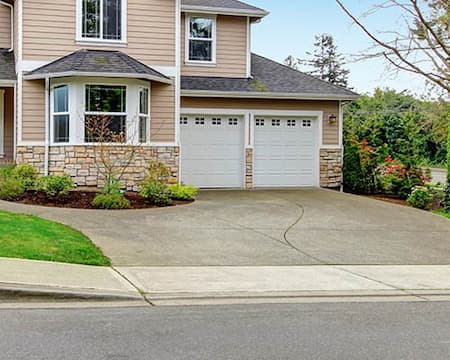 Are you ready to skip along on spotless sidewalks that sparkle and boost the curb appeal of your Spokane home? Then you need professional sidewalk cleaning from the pressure washing experts at Grace Pressure Washing!
Sidewalks are meant for feet, but they can affect your entire property when they get filthy. Here at Grace Pressure Washing, we know that sidewalk cleaning is a necessary investment to keep your home healthy, happy, and safe. Our pressure washing for Spokane is the area's most relied on, and when people depend on our services, we never disappoint! Surface cleaning treatments by our team involve the use of the industry's most trusted pressure washing equipment and cleaning solutions. Rest assured that when you hire Grace Pressure Washing, there's no challenge we can't handle!
The next time you take a look at your sidewalks, they can seem brand new. Get the best sidewalk cleaning treatment in Spokane when you call Grace Pressure Washing at 509-850-7828.
Walkway Washing Specialists
Sidewalks and walkways deserve some credit for all the abuse they have to put up with from mother nature and friendly folks out for a stroll. Considering the wear and tear they have to endure, it's a marvel they last as long as they do! A professional sidewalk cleaning service can help your sidewalks last for many more years to come and keep them in fantastic shape, so they complement your property perfectly.
Sidewalk cleaning by Grace Pressure Washing entails using surface washing attachments with premium cleaning agents to achieve a thorough, uniform clean of your sidewalk and walkways. Our system has proven to be spectacular for:
Erasing spots, streaks, and stains from your walkways, so they look gorgeous again
Enhancing the overall visual appeal of your entire property
Removing slipping hazards that could lead to injury and liability claims
Eliminating harmful germs and bacteria that could cause illnesses
Extending the lifespan of your walkways so they can serve you longer
Preventing the spread of organic substances such as mildew and algae
Maintaining your sidewalks and walkways will spare you the stress of having to pay expensive repair and replacement costs in the future. For the best sidewalk cleaning treatment around, call Grace Pressure Washing!
Beautify Your Home With Professional Pressure Washing
If you need more than sidewalk cleaning for your Spokane home, worry not! Grace Pressure Washing proudly provides a wide range of professional pressure washing services that can give your entire property a beautifying visual overhaul. We specialize in cleaning all types of surface materials, and we're more than happy to provide you with a free quote for any of our services. The next time you need pressure washing, ask us about such five-star services as:
House Washing
Moss Removal Roof Treatment & Cleaning
Window Washing
Deck Washing
And More!
Schedule Expert Pressure Washing in Spokane & The Surrounding Areas Now!