Deck Washing For Immaculate Outdoor Living Spaces In Spokane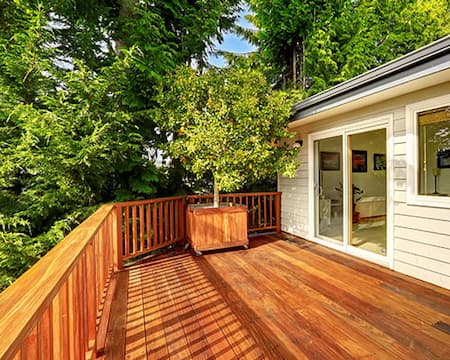 When the temperature heats up, and the sun hangs around for longer, there's no better place to catch some fresh air than right on your own Spokane deck! That's why when folks around here want to get their decks in perfect shape to make the most of the excellent weather, they call Grace Pressure Washing for expert deck washing they can rely on.
Keeping your outdoor living spaces clean is essential to maintaining the quality of life you deserve, and when it comes to exterior cleaning, nobody does it better than Grace Pressure Washing! We're a local team of surface cleaning experts who proudly provide the best pressure washing for Spokane. Our philosophy is that if the customer isn't happy, then the job isn't done, so we ensure to get your surfaces sparkling clean and healthy no matter what. With our talented team of experienced pressure washing specialists, there's no grime, blemish, or stain we can't wash away.
If your deck has seen better days, then now is the perfect time to turn back the clock. For professional deck washing that's as affordable as it is dependable, give our pros a call at 509-850-7828!
Outdoor Living Space Cleaning
If you live in Spokane, then you have to learn to love the weather and make the most of every season. Here at Grace Pressure Washing, we love soaking up the sunshine on our decks as much as anyone else, and we know all too well what our climate puts this cherished outdoor living space through. Our deck washing service specializes in cleaning the specific contaminants and substances that are attracted to your deck. Through the use of high-performance pressure washing technology and premium cleaning solutions, our team can restore the beauty and strength of your deck. Hence, it looks better than ever and lasts you longer.
Some of the benefits you can expect from our professional deck washing service include:
We wash out slipping hazards that may appear due to algae, mildew, grease, and other substances, so you walk around on your deck carefree.
Our deck washing treatment is an excellent way to enhance your home's curb appeal and property value.
Our specialized cleaning treatment eliminates harmful substances that can weaken, splinter, or degrade your deck over time.
Deck washing disinfects and sanitizes the surfaces of your deck so you can relax in good health.
Deck washing is the perfect way to prepare your deck for a new coat of paint or stain treatment.
You might be ready to relax on your deck again, but is your deck ready? Get your deck spotless again in no time with professional deck washing by Grace Pressure Washing.
Residential Pressure Washing Services You Can Trust
Our pressure washing experts are prepared to help you with all of your exterior cleaning needs. Along with deck washing, we also provide many other top-rated services that are guaranteed to make your property stand out, such as:
Fence Washing
House Washing
Moss Removal Roof Treatment & Cleaning
Sidewalk Cleaning
And More!
Schedule Expert Pressure Washing in Spokane & The Surrounding Areas Now!